It's Right. It's On Time. Or It's FREE!
Expert Help on all Your Projects
High Quality and Fast Turnaround
100% Satisfaction Guarantee!
Custom Window Envelopes
Envelopes do not have to be boring or run-of-the-mill. In fact, using a custom printed envelope is a great way to stand out from the deluge of mail because so few businesses invest in the outer mail piece. First, pick the right envelope for your needs. Several options are available, but window envelopes are the perfect tool for many basic business needs like invoicing or statement mailers. Perhaps the greatest benefit of window envelopes is the savings of time in addressing outgoing correspondence. A custom window envelope provides more than just ease of use and flexibility, it can be custom printed with your design or logo. We offer full bleed options so that your graphic can go edge to edge on the window envelope. We can match your custom stationery to assist with your branding while offering good aesthetic appeal. We will work with you personally to achieve the look you want your window envelopes to have.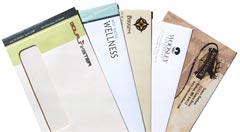 One highly specialized option to consider in custom printed window envelopes is printing an engaging wrap graphic that invites your customer to see what is inside. It may seem obvious that an envelope's call to action is "open me", but think about how many end up in the trash prematurely. An original envelope that grabs attention is memorable and is more likely to get opened. You can have an incredible message, an awesome offer, or vital information inside the envelope, but it serves no purpose unless the recipient actually sees it. Attention grabbing window envelopes can help your open rate. Our custom printed window envelopes can be either self-seal or standard glue seal, have square or pointed flaps, be tinted inside or standard white and have single or double window options. The windows can have a basic opening or have poly film to protect the contents. You can print directly from QuickBooks™ and our standard #10 window envelopes will match up to your invoices or receipts. Window business envelopes come in a wide range of sizes and configurations. You may want a single addressee window, or may prefer to incorporate a sender window as well. Double window envelopes can be custom created to meet your specifications. Our standard #10 envelope has a window that measures 1.125 x 4.5 inches with the window located .5 inches from the bottom and .875 inches from the left edge. We do have other
standard envelope sizes
available with varied window sizes and placement such as the common #9 envelope. We offer booklet envelopes with windows as well. An envelope with a window is both cost effective and convenient.
Explore your options by contacting one of our print experts at
800-930-2423
or
Get Pricing