Click to Get Started!

Find out why these St. Louis businesses
use PrintingForLess.com.
Apexit Consulting Group
Back To Books, Inc.
Caledon Virtual
Clinical Products LLC
Communications Strategy Group
Crown Wealth Management
Dream Shot Inc
Gadellnet Consulting Services LLC
Goosecorss Cellars
Habitat for Humanity St. Louis
Matthews Manufacturing Inc.
McDonald Publishing Company
Eclectic Marketing LLC
Missouri Food Bank Association
Why hassle with a local printer when online is quicker, easier and cheaper?
We are the premier online printing company for thousands of business in Missouri and every state the US. Find out how efficient, easy and safe it is to order your commercial printing online. Our quality printing and on-time delivery is guaranteed. Many people find it much quicker and easier to use us than drive to a local St. Louis printing company, saving valuable time and money better spent on marketing materials to help grow your business. No gas and no taxes! Less time and less hassle! Our award winning personal help and service is superior to what many get from their local printing companies. Read a few of our customer's reviews of us to the right, or
hundreds more here
. We'll help you get it done right and on time, or it's free! We specialize in helping companies market their business with high quality marketing materials. We'll work with you to make sure your designs print correctly, and even help with the design if needed. Our mailing experts can assist you in getting a cost-effective direct mail campaign produced and mailed to reach thousands of potential customers with your message. Give us a try today!
"I just love you guys! I can't TELL you how I appreciate your attention to detail and the quickness of your responses and your unfailing good humor! I can't speak highly enough about the Aspen Team and, really, about your entire operation. It's so professional and at the same time so personal and responsive. There are great, great people at PFL!"
Shari Stiver, Whimsies, Ltd
St. Louis, Missouri

100% Satisfaction Guaranteed
We offer a %100 Satisfaction Guarantee on all of our products and services!
More...
Kathy Peterson, Mace USA LLC
Overland Park, Kansas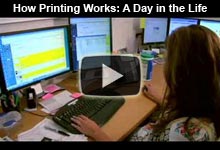 Video Tour of PrintingForLess
Your beautiful city, St. Louis, Missouri
Learn more about St. Louis
PFL is a marketing technology company that provides printing, mailing, fulfillment, and marketing automation services to over 200,000 businesses from startups to the Fortune 500. Our 100,000 sq. ft. state-of-the-art facility provides a one-stop shop for all your company's needs, from marketing advice, design services, sustainable print and mailing solutions since 1996. Our highly qualified team of 300+ employees deliver exceptional print quality with award-winning customer service backed by our A+ BBB rating and 100% satisfaction guarantee.