How to Improve Your Business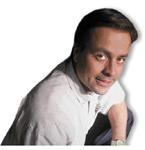 from Andrew Field and his office dog
Story by Ray Ring, Editor of Business to Business
Most photos by Doug Loneman, Bozeman Daily Chronicle

From the outside, it doesn't look like much. Just a standard, metal-sided, industrial building, stuck on a side street off downtown Livingston — almost painfully plain.
But humming inside the shell is a business that could be a model for how to succeed around here — teaching you some pointers about how to run your own business better. It's Express Color, a print shop owned and run by Andrew Field.
The type of business hardly matters. Express Color is a model of success, not so much because of its inks and papers and other tangibles, but more due to its business strategies.
Maybe the model starts with the print-shop dogs (there are several at Express Color). Or maybe it starts with Field's 23 years in the printing industry in several states. Or maybe with his sense of humor. Ask him what he recommends about his business, he chuckles and answers off the cuff, "The smell of isopropyl alcohol. It keeps your sinuses clear."
How successful? This business is barely three years old and its growth curve is impressive: year by year, up 40 percent, then up another 40 percent, then up 70 percent, according to Field and another staffer. To keep up with the load, now the shop has 20 employees and hums along 20 hours per day.
So review the checklist of this business' strategies. Field doesn't go around offering tips, but they surfaced during interviews with him, his staff and his customers. Maybe some don't apply to your business, but it's a good bet, some will. You might improve your bottom line:
---
1 Pick a niche inside a niche.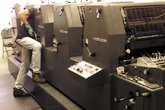 Express Color does only small and medium jobs, from 250 pieces up to 50,000. Inside that niche, the shop specializes in high-quality color. Inside that, the shop specializes in speed. "By specializing, we gain efficiencies," Field says. "We ink the press up in four colors on Monday, and we don't wash it 'til Friday, so we aren't charging customers for washups (or suffering that downtime). It's extremely fast-paced. The typical industry turnaround, from approved proof to finish, is two to three weeks. We're two to three days. That's how we've gained a foothold. The single thing our customers seem to like the best is our fast service."
Most of the customers are small businesses who want brochures, catalogs, postcards, business cards and stationery. More and more, in today's fiercely competitive market, they want it done in full color and immediately. "In our local market area, which stretches from Billings to Helena," Field says, "we see a trend toward tighter deadlines." Express Color fits the niche. How successful are their strategies? In their first year alone, the company experienced a 40% increase in growth.
2 Reach out with the Internet, and don't be satisfied with your first try.
Express Color has reached out to customers with an Internet site, www.expresscolor.com, pretty much from the beginning. The site was fairly standard and worked about as expected. But the business decided to do more outreach on the Internet, so eight months ago, a second Internet site was launched, www.printingforless.com. The second site has been wildly successful. Already the second site gets thousands of hits per month. Why is the second site so successful?
3 Come up with a fresh idea, then another fresh idea.
The second Internet site is based on several fresh ideas:
"If you go to Yahoo!," Field says, naming one of the largest national traffic nodes on the Internet, "and you look up the list of printing companies, they probably have 2,000 to 3,000 companies listed there, and you can link to site after site, and none of them does e-commerce. Nobody will take your credit-card number. There's some cultural reasons for that (traditional thinking in the printing industry). And most printers don't want their competitors seeing their prices."

But if you dial up printingforless.com, the site is set up to do e-commerce, listing prices and accepting your credit card. Better yet, it's this easy for you: you can send your print job directly through the site, over the Internet to Express Color, in popular layman's formats including Microsoft Publisher, Word and Excel on the PC platform. "Almost no one else in the country will do that," Field says.

Most printers want digital files in the professional standard: page-design formats such as PageMaker or Quark on the minority Mac platform. Yet, "there are more than four million registered users of Microsoft Publisher, which is more than Pagemaker or Quark ever had," Field says. "Our site is designed so small-business people nationwide can produce their own marketing materials in Publisher and go straight to the printer with it. People love it. We've been written up by Microsoft for what we're doing."
As a result of the Internet sites, Express Color brings in print jobs from customers coast to coast and from as far away as the Caribbean and Scotland. The business has even been profiled in a graphics-arts magazine in Norway.
4 Do more outreach, beyond the Internet.
Express Color has a full-time sales rep in a distant major market — a woman digging up customers in the San Francisco Bay metro area. "She has nine years experience in the printing business. She knocks on doors and does trade shows all over the Bay Area," Field says. Making the person-to-person contacts for Express Color, the rep pulls in print jobs from Bay Area wineries, software and hardware companies, marketing companies, the whole metro gamut.
"I wish I could claim the credit, but I didn't think it up," Field admits. "I got the idea from a printer up in Kalispell. I heard he had traded in his press for a real big one by comparison, quadrupled capacity, a six-color with a coder, and in Montana we found very few people needing color like that, so I called him up and asked him, 'What are you thinking, buddy?' And he said, 'Oh, I do hardly any Montana work — 90 percent of my work comes from the state of Washington. I have two full-time salespeople in the Seattle area.' That's all I needed to hear."
Adding up what all the outreach accomplishes — the two Internet sites and the sales rep in California — Field says that fully half his business comes in from out of state. "And that's the fastest-growing part of our business," he says. "You look at the total pie (nationwide) — if we can get crumbs out of California, it's bigger than the loaves of bread in Montana. The trick is to live here and enjoy the Montana lifestyle and figure out how to make a living — how to get the outside money in here."
5 Pay well and keep the workers motivated.
Express Color pays better than the standard wage for similar jobs around here, according to Field and several staffers who were interviewed for this story. On top of that, the business offers the employees profit-sharing — "25 percent of the profits go back to the employees and get split up," Field says.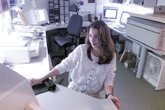 Several employees say they haven't actually pocketed any profit-sharing yet, because the business has been growing so fast, profits have been absorbed by the costs of expansion. "We're kind of reinvesting the profits at this point," says Courtney Bazaire, who works electronic pre-press, massaging digital files for Express Color. "So that later on, we can reap the benefits."
Just the possibility of profit-sharing lends to the atmosphere. "It's enlightened self-interest," Field says. "Companies that do it (profit-sharing) tend to perform really well. Then everybody thinks like an owner, and they're empowered like an owner. They care about the product, they care about waste, they care about the phone bill. We don't have to have some hokey little system where, 'You get $10 if you come up with a good idea.' Because everybody knows it's to our mutual benefit to always be improving our efficiency and looking for better ways to serve customers."
6 Don't batten down the hatches too tightly.
The pace at Express Color is often stressful on deadline after deadline, but the atmosphere isn't uptight. It's good-humored. Some employees work four 10-hour days instead of five eight-hour days, because they prefer to. "It's very flexible," says Dave Walker, who also does electronic pre-press. "I take advantage of the dry times and go hit a few golf balls. When it's busy, I stick around and do it. The shop is loose."
The workplace breathes, even giggles. Wisecracks and laughter frequently relieve the stress. Some people even bring their dogs to work. The top dog is a merely a mix of border collie and lab, named Jesse, owned by Field. She comes to work with Field every day, strolls around the shop greeting everyone, then she might settle in a chair, like she owns the place.
"We have a thing we do with Jesse, when telemarketers call," Field says. "We ask them, 'Would you like to speak to our office manager, Jessie?' And they're like, 'All riiight!' (thinking they're going to connect with a decisionmaker). I hear them type the name into the database, and then we hold the phone down to Jesse and tell her, 'Jesse — telemarketer!' and she growls and snarls really mean into the phone. Then we come back on the phone and say, 'Oh, I guess you caught her at a bad time.'"
No kidding, the dog growls into the phone if she thinks it's a telemarketer calling.
"One guy actually called back and said, 'I have a tough job, and you know, I haven't laughed that hard in five years,'" Field recalls. As a result of the better compensation and accommodating atmosphere, the business attracts and keeps high-quality staffers, according Field and the staffers interviewed. The 17 employees combine to have more than 300 years of printing experience.
"The chemistry is great," says Bazaire. "We all seem to mesh pretty well."

"I like the people I work with," Field says. "This is not really about me, this is not a one-man band. I have a tremendous crew of people. The joke is, I can walk into any room in the plant, and the average IQ goes down. And that's a real pleasure, to be able to work with a bunch of real bright, motivated, hard-working people."
He sums it up, "You don't want to wake up in the morning and hate going to work. This is more than a drone job. Happy people who get to make their own decisions and work in a flexible environment are going to produce better work for the customers. It's better for everybody."
The customers like it too.
"They're great — one of the most customer-friendly printers I've worked with," says Brooke Russell Homan, marketing coordinator for the Bozeman plant of Gibson's Acoustics, manufacturer of guitars and other stringed instruments. Express Color has printed catalogs and other projects for Gibson's. "I've really enjoyed working with them," says Russell Homan.
"They do a really great job," agrees Trisha Wookey, co-owner of Wookey backpacks in Bozeman. When the backpack manufacturer started putting together its new catalog, "We did the catalog on our own, on our own computers. We had never done that before. We didn't really know what we were doing," Wookey says. "We're not graphic designers. We had never dealt with a printer before."
The Wookey people brought their catalog in to Express Color on seven Zip disks — maybe six more than necessary, with digital files that were way more dense than necessary. "They were really nice about it," Wookey says. "They let us come in and gave us over-the-shoulder help. I'm surprised they didn't tell us to go home and hire a graphic designer. They charged us. But they did an excellent job."
Your business should be so successful.