2023 Spring & Summer Lookbook
Fully branded direct mail solutions by Printing for Less
What are the hot promotional product trends this summer? Printing for Less believes they center on being more in tune to the environment, wellness, and self-discovery than ever before.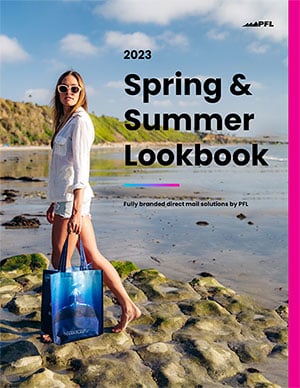 Renewal
People are rediscovering the beauty in simplicity.
Evolution
Technology continues to evolve with increased focus on sustainable, innovative solutions.
Care
With a focus on mental and physical health, a shift towards products that promote wellness is on the rise.
Balance
The drive for improved work life balance has driven people to demand versatility.
Discovery
In the post-pandemic era, individuals have made the conscious shift to seek out shared experiences and self-discovery.
Printing for Less believes promotional products should be more than just generic swag, and this highly illustrated, full-color catalog proves that personalization is possible at all stages of the customer journey.
Download the "2023 Spring & Summer Lookbook" now to find just the right product for just the right customer or prospect.
Fill out our form to download a copy of the Lookbook.