Click to Get Started!

Find out why these Raleigh businesses
use PrintingForLess.com.
1st Choice Contractors
Abra Marketing + Graphics
Accuvein
Advanced Seating and Mobility
Arsenal Security Group
Blue Lotus Bodyworks
Clarity Communications
Fechko Excavating
Gulf Breeze Software Partners
IAEDP
JCM Telecom
Krel Studios
Kristina Snyder Consulting
Major Panes
Milestone Banking Solutions
New Beginnings Management
Northside Realty
PrepSuccess LLC
Why hassle with a local printer when online is quicker, easier and cheaper?
We are the premier online printing company for thousands of business in North Carolina and every state the US. Find out how efficient, easy and safe it is to order your commercial printing online. Our quality printing and on-time delivery is guaranteed. Many people find it much quicker and easier to use us than drive to a local Raleigh printing company, saving valuable time and money better spent on marketing materials to help grow your business. No gas and no taxes! Less time and less hassle! Our award winning personal help and service is superior to what many get from their local printing companies. Read a few of our customer's reviews of us to the right, or
hundreds more here
. We'll help you get it done right and on time, or it's free! We specialize in helping companies market their business with high quality marketing materials. We'll work with you to make sure your designs print correctly, and even help with the design if needed. Our mailing experts can assist you in getting a cost-effective direct mail campaign produced and mailed to reach thousands of potential customers with your message. Give us a try today!
"As usual, I have had a fantastic experience with PFL and the cards came out as expected. I had two, self-imposed issues come up during the process 1) slight change to the digital file; 2) increase of printing quantity, after order was placed. The team handled both issues with ease and it was a stress free and completely great experience for me. Thanks again for all of the help and superior service."
Stephen T. Tanis
Greensboro, North Carolina

100% Satisfaction Guaranteed
We offer a %100 Satisfaction Guarantee on all of our products and services!
More...
Nancy Goodwin, Urbana City Spa
Charlotte, North Carolina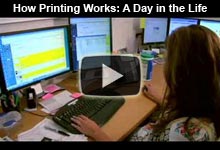 Video Tour of PrintingForLess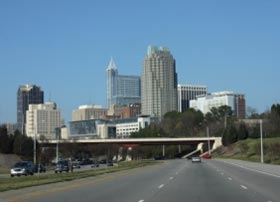 Your beautiful city, Raleigh, North Carolina
Learn more about Raleigh
PFL is a marketing technology company that provides printing, mailing, fulfillment, and marketing automation services to over 200,000 businesses from startups to the Fortune 500. Our 100,000 sq. ft. state-of-the-art facility provides a one-stop shop for all your company's needs, from marketing advice, design services, sustainable print and mailing solutions since 1996. Our highly qualified team of 300+ employees deliver exceptional print quality with award-winning customer service backed by our A+ BBB rating and 100% satisfaction guarantee.