It's Right. It's On Time. Or It's FREE!
Expert Help on all Your Projects
High Quality and Fast Turnaround
100% Satisfaction Guarantee!
From
The

America's Fastest-Growing Private Companies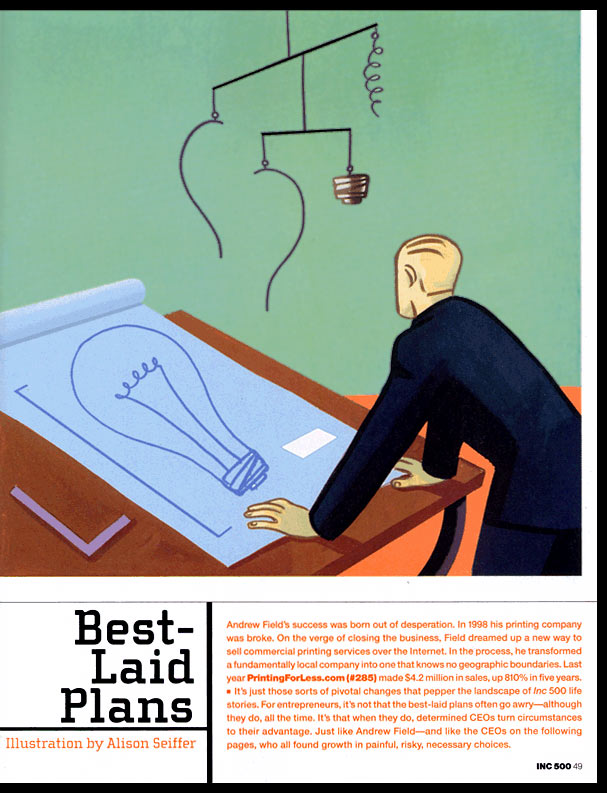 Best-Laid Plans
Andrew Field's success was born out of desperation. In 1998 his printing company was broke. On the verge of closing the business, Field dreamed up a new way to sell commercial printing services over the Internet. In the process, he transformed a fundamentally local company into one that knows no geographic boundaries. Last year PrintingForLess.com (#285) made $4.2 million in sales, up 810% in five years. It's just those sorts of pivotal changes that pepper the landscape of
Inc
500 life stories. For entrepreneurs, it's not that the best-laid plans often go awry—although they do, all the time. It's that when they do, determined CEOs turn circumstances to their advantage. Just like Andrew Field—and like the CEOs on the following pages, who all found growth in painful, risky, necessary choices.
A Little Goes a Long Way
(excerpt from page 68)
8. At what point in my growth should I try to raise more money?
It depends on your long-term goals. If you're happy with your company's rate of growth, then there's really no need to raise more money. But if you're dissatisfied with the rate, then it's time to raise capital.
For a couple of years Andrew Field, founder and president of
PrintingForLess.com (#285)
, had been happy with his company's growth rate. Then, in 2000, his company reached critical mass in both the number of employees and the number of projects it was handling. Suddenly, Field needed more high-powered software— something called an "internal work-flow database" that could help him track each and every project and employee. "We were at a pivotal point in our development, when we literally needed to go into the red in order to grow larger" recalls Field. "Investments in infrastructure and marketing simply couldn't wait for internally generated capital." Field raised a total of $500,000 from two venture-capital firms. In addition to hiring programmers to develop the database, he also spent money on marketing, since the database system gave PrintingForLess.com the ability to handle many more projects. "Both investments have more than paid for themselves, from both an ROI perspective and an internal- efficiency standpoint," says Field, whose company grew 143% in the year following the investment—the largest percentage increase in the company's history.