Folding Options for Menus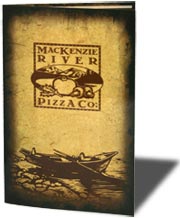 How you'll fold a menu is an important decision. A fold affects both the aesthetics and function of the menu. It determines which dishes and beverages your customer sees first and affects the size of your menu. Folds can decrease the finished size of your menu without reducing the space for your message. Standard folds include: single sheet, half-fold and tri-fold. In addition to standard folds, we can customize a fold to fit your menu design. Call our helpful experts to discuss the right fold for your project,
800-­930-2423
.
Menu Panels:
Front Cover
Should be vibrant and easy to read. May include your company name and logo.
Inside Panels
Detailed information about your dishes including a description, price and possibly photo.
Back Cover
May be a continuation of your menu or an advertisement for your company's products, services or locations.
Single Sheet
A single sheet menu does not have a fold. It is a two page, front and back menu. The top half of the front page is most often seen by your customer. Place cocktails and appetizers on the top half of the menu to increase sales. Our standard single sheet sizes are:
4.25" x 11"
5.5" x 15"
8.5" x 11"
8.5" x 14"
11" x 17"
11" x 25.5"
Half Fold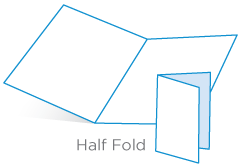 A half-fold is a single sheet menu folded in half. The half-fold is constructed by folding a sheet of paper to create 2 panels on each side of the paper. Our standard half fold sizes are:
8.5" x 11" folded to 5.5" x 8.5"
11" x 17" folded to 8.5" x 11"
Recommended Applications:
Use the front cover of your restaurant menu for your company logo, address and name. With a half-fold, you still have two interior pages to display the bulk of your menu. The back page can be a continuation of your menu or used to display drinks, desserts or a kids menu.
Tri Fold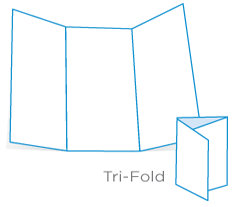 A tri-fold menu is a single sheet of paper printed on both sides and folded into thirds. A tri-fold menu is perfect for a large menu or a menu with a variety of options. With 6 panels, a tri-fold allows you to segment your menu more easily. You can have a separate panel for starters, small plates and entrees. Our standard tri-fold size is:
11" x 25.5" folded to 8.5" x 11"
Recommended Applications:
Sushi restaurants can use tri-folds to create separate panels for rolls, sashimi and other hot dishes. Tri-folds can be used by Italian restaurants to categorize salads, pizzas and pastas.
Custom Menu Folds
The paper stock and weight you choose for your menu will have an impact on the type of folding options you have available. Are you looking for a unique design? We have a variety of custom options available, including a gate fold and Z fold. Call our helpful experts to discuss the right fold for your project,
800-­930-2423
. View our article on
Paper Folding Options
for additional details.
PFL is a marketing technology company that provides printing, mailing, fulfillment, and marketing automation services to over 200,000 businesses from startups to the Fortune 500. Our 100,000 sq. ft. state-of-the-art facility provides a one-stop shop for all your company's needs, from marketing advice, design services, sustainable print and mailing solutions since 1996. Our highly qualified team of 300+ employees deliver exceptional print quality with award-winning customer service backed by our A+ BBB rating and 100% satisfaction guarantee.