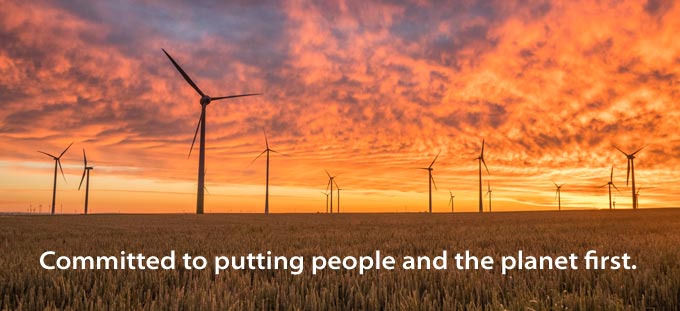 Our Sustainable Solutions:
Printing responsibly, working responsibly, supporting our community
PFL chooses to take responsibility for our environmental impact. Our environmental initiatives are in place to help reduce our carbon footprint through sustainable forestry practices, while also delivering a versatile, quality product for our customers. In keeping with these principles, we offer environmentally responsible products and services wherever possible. To lead by example within our industry, we follow principles to improve upon our sustainable solutions and are an accredited green printer. We have certified our operations with the tri-certification in SFI, FSC, and PEFC to proactively demonstrate how much we care about responsible forest management while offering our customers more choices.
Logistics of Sustainability
Through advanced technology, a dedicated workforce, alternate energy sources, and carbon neutral options, PFL is able to deliver around the world, give back to the community, and still remain an environmentally-friendly business. The future of our earth depends on businesses using credible, transparent and auditable standards to ensure a sustainable resource for today and generations to come. At PFL, we have policies and programs in place to deliver sustainability. Our goal is to continuously improve our sustainability efforts, and hope businesses choose a similar path to reduce their environmental impact when options are available. PFL recycles a minimum of 30% post-consumer recovered fiber, certified by the manufacturing mill and meeting EPA-recommended guidelines. We promote energy and utilization of manufacturing programs to safeguard resources, backed by our Veritiv partnership and Green-e and Green Seal certification. As an accredited eco-friendly printer, we actively promote reforestation attributes and encourage
FSC, SFI and/or PEFC Chain-of-Custody program certification.
Partnered with the world's leading environmental organizations, PFL's green printing solutions guarantee that rights and needs of local people and workers have been respected, the highest environmental and conservation standards have been applied, and the product has been tracked from the forest to the store.
Responsible Business Practices
At PFL, we use a variety of methods to support the growth of renewable energy projects in the U.S. and reduce the environmental impact of the electricity we use. We feel strongly about our choice to protect the natural world, and reusing our products and reclaiming materials that can be used again is one way we accomplish that. These sensible alternatives allow us to help sustain the environment while offering high-quality products our customers can take pride in. At a time when decreasing our reliance on fossil fuels has never been more important, U.S. wind energy potential is estimated at more than twice the total electricity generated from all sources in America today, and this resource will never run out. By offsetting our electricity use and carbon emissions using wind-turbine energy, we are reducing the need to generate energy from other sources.
"By purchasing 100% renewable energy, PFL is helping to reduce greenhouse gas emissions and promote a cleaner, healthier local community."
– Toni Cody, Park Electric Member Service/Marketing Director
PFL is working with its local utility, Park Electric Cooperative, along with Basin Electric Power Cooperative's Prairie Winds-Energy in Motion Green Tag Program, to make this green initiative possible. The wind energy we support is delivered directly into the electric grid, reducing the need for energy from fossil fuel sources like oil and coal. As Park Electric's largest wind-powered customer, we hope to lead more businesses to choose to purchase wind energy, more wind farms will be built.
Supporting Our Community
At PFL, we strive to be active participants in our local community. We believe sustainability is more than just taking an environmental step. Sustainability is about meeting the needs of our current generation while ensuring we meet the needs of generations to follow. Our children are our future, which is why we are supporters of our local organizations, like Big Brothers Big Sisters in Livingston, #Hashtag Lunchbag Organization in Indianapolis, Links for Learning, Livingston Education Foundation, Yellowstone Boys and Girls Ranch Foundation, and more. We believe in assisting our community's students and teachers, and hold various events such as Sober Prom and Sober Graduation events local high schools, including Livingston Park High, Belgrade High, Shields Valley High, and Bozeman High. As we have a dog-friendly workplace, we couldn't forget our furry friends! PFL supports the Stafford Animal Shelter, where each animal receives daily meaningful human contact and an opportunity to interact with other members of its species. We also support our local volunteer fire department and participate in various fundraising efforts by sponsoring employee participation. We believe in assisting our community and support local organizations to make a positive impact and contribute to organizations, schools, and events like ASPEN in Livingston, Livingston Food Resource Center, Out of the Darkness Suicide Prevention Walk, and the Special Olympics Montana. The future is in our hands, and all of us at PFL are dedicated to making a difference.
Join our Commitment
In addition to our company-wide commitment, we want to share information on how you can also support renewable energy at home. Learn how making eco-friendly print decisions can drive climate change solutions. Read How PFL offers ways for you and your business to take an eco-friendly step. Let us show you how PFL makes printing sustainable – and also get access to our free guide,
How-To Choose a Green Printer
.
Efficiency and exceptional customer service are at the heart of PFL. Discover how our paper, print and packaging expertise can help guide your next project and help guide your business to responsibility and sustainability.