8 Tips to Make the Back of Your Business Card Stand Out
All hail the humble business card! While its primary purpose is to tell people how to reach you, this small piece of paper is often the most enduring part of your first impression. It pays to get creative with it, and savvy professionals use the back of the business card to build their brand. Before we get to the backs of business cards, let's talk basics. A business card, though tiny in scope and appearance, is a key part of your individual or company marketing plan. And people are paying attention. Seventy-two percent of them consider there to be
a connection
between the quality of your card and the quality of the product or service you have to offer. And 39% will choose not to do business with a company whose business cards look cheap. The front and back of a business card each have distinct purposes. The front is where you want to convey your name, title, and contact information, and the back is where you have space to capture attention. Here are eight tips to making the back of your business card stand out.
1. Opt for simplicity
The trick to effective back of
business card designs
: simplicity. Remember, your business card is a snippet of information about you - it doesn't have to tell your whole story; just inspire people to learn more. This can be a hard task to master when you're staring at the blank side of your card and trying to figure out what to put there. You want your business card to look pleasing to the eye, which means achieving a balance between design and emptiness. Thinking of your business card like any other piece of marketing copy shows why simplicity is so important. Effective marketing involves getting your point across as succinctly. Avoid unnecessary fluff that takes away from your main message.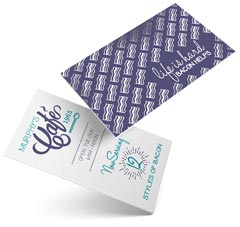 2. Blank doesn't have to equal
A caveat of the simplicity rule is that blank doesn't have to mean blank. An
original design
or photograph is an excellent way to creatively utilize space on the back of your business card without overloading it. This is especially true if you're an illustrator, designer, photographer, or another professional in a creative field. Make sure your design or images are ready for print. High resolution images (aim for 300 dpi or higher) print crisp and clear, telling prospects that you care about details. And if it's in your skill set, use your back of business card design to showcase your skills, highlighting work you're proud of or creating something new. It's a great place to show off what you can do.
3. Share an evergreen tip
In the same vein as using back of business card designs as a place to display original imagery, you can also use it to share your expertise by including a useful tip. People will be more likely to hold on to your card if it shares information they might need. For example, if you're a plumber you can share a quick tip on how to fix a running toilet. Or if you own a bakery you can include a small chart detailing how much cake you need to feed a crowd. When prospects hold on to the card for the tip it offers, they'll also hold on to your contact information.
4. Turn your card into a coupon
Another great way to get people to hold on to your business card design is to make it do double duty as a coupon. Use the space on the back side to share a deal that's only for cardholders, such as 10% off their bill when they display the card at the time of service. Even if they're not in need of your business now, they'll hang on to the card in case they are later. This is an ideal way to stand out if you're in sales or another field where your card is less about creative design and more about securing leads.
5. Direct to your social accounts
If your brand uses social media as part of a
marketing strategy
, the back of your business card is an excellent place to direct people to your channels. The front of your card can get easily bogged down if you're trying to share too much, so using the back specifically for your social media account information is useful. Because it's simple and straightforward text, you'll get your point across quickly without upsetting the balance of the space.
6. Be smart with your color choice
Colors have subtle subconscious meanings
, and you can take advantage of this when you design the back of your card. Bright colors like yellow and orange connote energy and optimism, while cooler colors like blue and violet are indicative of dependability and stability. And there are other ways that colors play into perception as well — think green for things related to the environment and black for luxury products. Use the power of color to your benefit by opting for a solid stain on the back of your card that connects color with what you're trying to convey. In addition to giving off subconscious cues, it will help you stand out from the stack of basic white business cards on a prospect's desk.
7. Direct to video
You can't exactly put a video on the back of business card design (yet), but you can absolutely use it as a place to direct to one. Give a quick run-down of what the video will entail (i.e. "5 cyber security tips all businesses should know" or "How to get stains out of grout") and then include a QR code that people can scan on their phones to get to the video itself. Business card backs are a great place to do this, and it's a helpful way of furthering a prospect's journey down the sales funnel by bringing them to your site.
8. Map it out
If you want to go visual but aren't quite sure how, consider putting in a map that either directs to your office or outlines your service area. Maps are streamlined, practical, and nice to look at, and they're also an efficient use of space. You can work with a designer to create a unique map design, or you can just put together something simple from the web. Whichever way you go, it's a good visual reminder of where you're at.
Get a custom business card
that shows off just how much you have to offer. And if you need some help, let us know! We can help you
design a business card
today or have you speak to a print consultant to come up with your ideal design. Ready to rock?
Order your business cards here
.
Call our helpful experts now at 800-930-2423
PFL is a marketing technology company that provides printing, mailing, fulfillment, and marketing automation services to over 200,000 businesses from startups to the Fortune 500. Our 100,000 sq. ft. state-of-the-art facility provides a one-stop shop for all your company's needs, from marketing advice, design services, sustainable print and mailing solutions since 1996. Our highly qualified team of 300+ employees deliver exceptional print quality with award-winning customer service backed by our A+ BBB rating and 100% satisfaction guarantee.