NFC Business Cards
N
ear
F
ield
C
ommunication — Smart Printing for Smart Technology

Your Business Card - a Window to the Web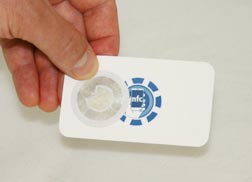 Imagine a
business card
containing ten times as much information on the inside, as it does on the outside. That's exactly what NFC technology can do for your business card. By simply adhering a small NFC tag inside, or outside your printed piece -
NFC equipped mobile smartphones
can be placed near the card, and the tag will direct the device where to go. This destination can lead anywhere from video content, to social media pages, to a simple contact form - or any website landing page imaginable. NFC's unique technology keeps your business card current and up to date with the speed of modern communication. Bring your printed marketing materials into the 21st century with NFC!
NFC Printing - Endless Possibilities
Not only will NFC tags allow your printing to send the user anywhere online, you can always edit the destination of your tags after they're in your customer's hands. This level of ultimate control leaves your business card as a physical landmark, whose end content is never outdated or irrelevant. Here are a few examples of where you might send a contact with your NFC printed marketing materials:
You Dream it - We Do It!
Call PFL, and tell us how you imagine your dream NFC project working. If you can dream it, we can do it!