Sending offline marketing is as easy as sending an email
Get the most out of Marketo using
PFLlink
. Our integration allows you to trigger the send of personalized, timely, and high impact tangible marketing directly from the Marketo interface. Sending physical pieces, such as direct mail, sales kits or promotional items is as automated as sending an email.
The CMO Council found that the average response rate for emails is 0.12%, whereas the average response rate for direct mail is 4.4%.
The missing link in Marketo
Once you are connected to our printing API
PFLlink
you gain instant access to the technology and systems that have allowed us to serve over a hundred thousand customers, including many of the Fortune 500. Our unified printing and fulfillment process gives clients access to PrintingForLess.com's capabilities without the overhead of manually placing an order. Print on demand and variable content allows you to personalize your message, without dealing with minimums or complicated pricing. You can submit orders in real time and even check order and delivery status.
Learn more about Marketo
.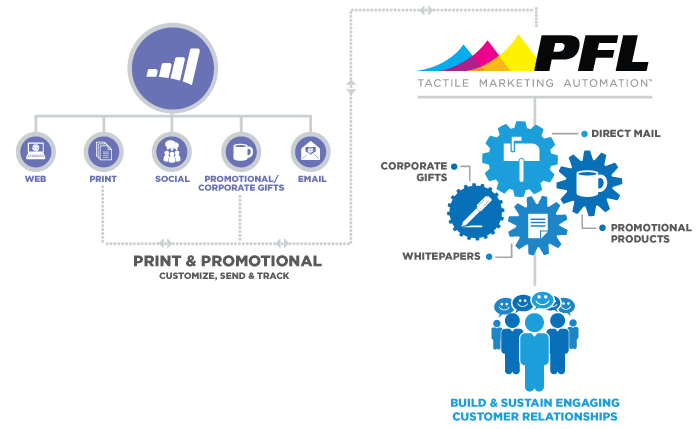 Create true multi-channel campaigns
Offline marketing strengthens digital and creates true multi-channel marketing campaigns. Use physical marketing to optimize conversion, expand your product offering, drive acquisition, and increase overall effectiveness and response of your current campaigns.
According to a Print in the Mix survey, 56% of respondents say they found printed material to be the 'most trustworthy' of media channels.
The PrintingForLess.com difference
PrintingForLess.com provides unmatched value, made possible by our high volume, state-of-the-art manufacturing operations, and friendly expert staff. We have combined all the perks and service of working with a small local print shop with the technology that allows you to print and manage your job from anywhere.
Call 888-922-0697 today to get started.
ScaleArc: Lead Nurturing and Lead Management

ScaleArc used
PFLlink
to trigger the send of high-impact marketing collateral to engage executive-level decision makers. Physical products, such as sales kits, postcards, and letters were triggered from existing smart campaigns. In addition to seamless print fulfillment, sophisticated tracking capabilities were a significant factor in choosing
PFLlink
. Within hours of prospects receiving the physical piece, ScaleArc teams were notified that the item had been delivered. With this information, they could make timely, one-to-one follow-up calls that strengthened prospect engagement and response.
Mathnasium: Lead Nurturing and Lead Management

Mathnasium leveraged
PFLlink
to automate existing offline marketing strategies so the franchisee could spend more time running their business, and less time fulfilling print requests in response to national radio ads. When a customer called in after hearing a radio spot, call center reps entered the customer's information into Salesforce.com, which then populated the data in Marketo. That action triggered Marketo to send a personalized packet to the customer featuring information specific to the nearest Mathnasium center. All prospect activity reported in Marketo was fed back into Salesforce.com, giving franchise owners access to win-ready leads.